Foam injection is a relatively new method for sidewalk repair. This technique uses foam to fill cracks in the concrete sidewalk and create a sealant that lasts for years. This method, on a small scale, is greatly less expensive than traditional concrete repair.
In addition to being an inexpensive option for fixing cracked sidewalks, it is also quick and easy to complete. The best part about using foam injection on your sidewalk is that you can use it for both personal use at home as well as commercial use when you have a business.
Foam injection is used to repair surfaces on driveways, sidewalks, and even staircases. Sidewalks generally crack due to the presence of water or tree roots that weaken the concrete until it simply breaks apart. When cracks form in your sidewalk they can lead to damage to items such as mailboxes, landscaping elements, or cracks can be a tripping hazard for pedestrians. If you notice any of these problems then it is very important that you get your sidewalk looked at by a professional to determine the best method of repair.
The Problem with Traditional Sidewalk Repair
Traditional methods of repairing sidewalks require removing the entire concrete slab and replacing it with new concrete. This method has many problems, including that it requires a lot of labor to excavate the sidewalk which is very expensive. Excavating often damages water and sewage systems underground which can be very expensive to repair. Concrete sidewalks must be poured on-site with specialized equipment. The process can take days or even weeks depending upon its size.
What is Foam Injection?
Foam injection is often used in sidewalk repair to fix cracks or other damage. It is a long-term solution that can be more cost-effective than fixing the sidewalk with a new concrete surface. The polyurethane foam is pumped into the crack and then adhered with an adhesive. With foam injection, you don't have to replace the entire concrete sidewalk slab if it only has cracks and no structural damage. The foam expands and adheres to the existing concrete, which helps eliminate cracks for good. Foam can help bring a sidewalk back to life.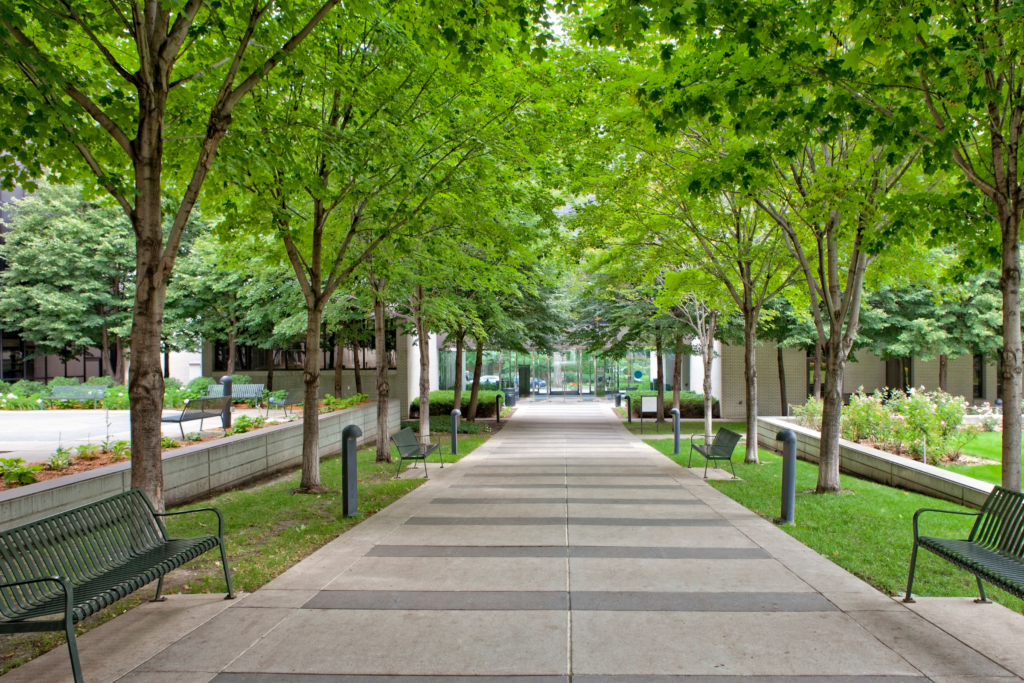 Benefits of using foam injection
The benefits of using foam injection include:
Longer lasting – Foam injection can last up to 3 times longer than the concrete does, which means that you have a repair that will last longer.
No need for expensive tools or machinery – There is no need for heavy machinery or other expensive tools when using foam injection. This can make it possible to save money and time with this option.
Available anywhere – Foam injection isn't just for sidewalks either. It can also be used on driveways, basement floors, and other areas that are constantly exposed to moisture.
Reduced labor costs – The need for expensive machinery or other tools means reduced labor costs because fewer people are needed on the job site to complete the job.
How Foam Injection Works
Foam injection is an excellent option for repairing concrete sidewalks. This repair technique uses a special foam and adhesive to fill cracks in the surface of the sidewalk. The biggest benefit of this method is that it can be used on small cracks that are less than 3/8 inch wide, but aren't structural or are due to traffic.
The process for foam injection starts by drilling a small 1/2 inch wide hole into the concrete. You then inject the foam and adhesive through this hole and press down on it with a tool in order to get it below the crack line, filling up any of the cracks that appear on your sidewalk. This technique is quick and effective, which makes it a cost-efficient option for repairing cracks on your sidewalk.
Sidewalk Repair: Foam Injection vs Concrete Replacement
One of the biggest differences between concrete replacement and foam injection is that foam injection can fill cracks in the concrete which would otherwise require a new concrete surface to fix. Foam injection also doesn't require you to excavate the sidewalk and damage underground systems, which is one of the reasons why it is so cost-effective. Foam injection can be used on small cracks in your sidewalk instead of replacing the entire sidewalk because of its long-lasting effect. Concrete replacement requires many steps and can take a long time to do. It is highly recommended to contact CatFoam in order to get the best results from your sidewalk repair or new concrete installation.
CatFoam is widely known as the best foam injection company in the Houston area. We have extensive experience working with all types of surfaces, including concrete sidewalks and driveways. If you're looking for a cost-effective way to repair cracks on your sidewalk or driveway without needing to replace them, then consider using foam injection technology from CatFoam. Give us a call today to learn more. We provide concrete raising, leveling, driveway & sidewalk repair from Conroe to Houston and everywhere in between!